Contact 
---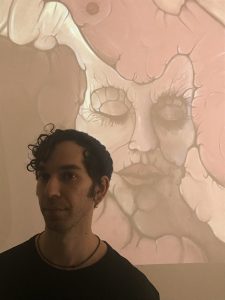 Kamran Behrouz (1984) is a Visual Artist, born and raised in Tehran, currently working and living in Zurich. Their PhD, entitled 'Cosmopolitics of the Body', uses posthuman critical theory as a navigational tool to examine the boundaries of bodies and humanity's embedded and embodied cultures. They work with multiple medias, and combines the act of painting with animation, installations, motion capture, and (virtual)performance. Their works deal with 'politics of location' in association with Cosmopolitics. Kamran saturates the Queer Identity throughout their art, in order to draw a cartography of belonging and displacement. Politics of image center their visual practices, transfigured in their theoretical works, as cultural translations, coding and textual trafficking. Kamran's latest research is related to the translation of queer-feminist texts such Sara Ahmed's latest essay into Persian language (a language that does not register gender), and immersive art as a form of knowledge production/distribution.
---
Education
Current: 2017-2022
Ph.D. candidate in Fine Arts/Cultural Theory, Kunstuniversität Linz (University of Art and Design, Linz, Austria)
Supervisors:
Dr. Yvonne Volkart, Institute Art Gender Nature, Academy of Art and Design FHNW Basel
Dr. Nina Sellars, University of Melbourne, Faculty of Medicine, Dentistry and Health Science

2020/Spring: A semester exchange at doctoral study program PhD in Practice with Renate Lorenz (professor for art and research) and Anette Baldauf (professor for methodology and epistemology), Academy of Arts Vienna
2017-2019: Utrecht University, Summerschool led by Prof. Rosi Braidotti, Utrecht, Netherlands
2011-2014: (MFA) Master of Fine Art, Zürich University of Arts, Zurich, Switzerland. MFA Supervisor: Nana Adusei-poku
2002-2006: (BA) Textile and Fashion design, Azad University of Arts, Yazd, Iran.
---
Exhibitions
2022: 'Deuterostomia' (animation, 2020) as part of a digital archive "100 Ways to Say We" within the framework of the Architecture Biennale in Venice. The Archive is a co-production of Theater Neumarkt & Goethe-Institut / Performing Architecture in collaboration with S.a.L.E. Docks & Florian Malzacher.

2022: (Animation/virtual performance: Gauche Caviar) as part of the ExtincionFest, an exhibition in two parts: "Marsh Ontologies" and "From Autism to Anime", curated by Oriol Fuster Cabrera, organized by Tarragona Center for Contemporary Arts, Tarragona, Catalonia
2020/2021: Lithography Publication in collaboration with Steindruckerei Wolfensberger part of the group exhibitions «Am nächsten Tag ging die Sonne auf – Kunst aus Zürich» , Helmhaus, Zurich
09/2020: (VR- lecture Performance) at the Festival: The (in)escapable monotony of pornographic representations, Improper Walls, Vienna, Austria
10/2019: (Installation)'Corpoanarchy: Politics of radical refusal', part of the group exhibition "AUF DER SUCHE", Helmhaus, Zürich, Switzerland
6/2019: 'Non-linear history of open wounds',  installation and lecture performance as part of the collective event: love Trans*formation curated by Jonah l.Garde and Simon Harder (Institute of cultural studies), Les complices, Zurich, Switzerland
2019: 'Decolonizing Friday', A series of painting in association with a lecture by Dr. Martin Mühlheim, Kunst(Zeug)Haus, Rapperswil-Jona, Zürich, Switzerland
2018: 'Mugwumps', part of a group show "Zurich from the point of view of cartoonists", Zurich's Central library, Switzerland
2018:(solo exhibition) Corpoanarchy, Raum*station, Zurich, Switzerland
2018: 'Ecology of expectorate and the politics of affirmation', Installation and a collective performance with Ivy Monterio , Edwin Ramirez & Lila Lisi at Material, Zurich, Switzerland
2017:  (solo exhibition) Stared back, installation, Villa-Wädenswil, Zurich, Switzerland.
2014: MFA Degree show, Shedhalle (multimedia installation), shedhalle, Zurich, Switzerland.
2014: 'Snail riding home', (multimedia installation) ABContemporary Gallery, Zurich, Switzerland.
2012: Theatre Gessnerallee, 'Amygdala and my extracted body' (Multimedia Installation), Zurich, Switzerland.
2010: 'boring bourgeois', part of a Group exhibition, Atelier Z, Paris, France.
2008: "Negargari in contemporary Art", Elahe Art Gallery (Painting on Textile),Tehran, Iran.
2007: 1st Biennial of Textile and Fashion design, Museum of Contemporary Arts,(painting) Tehran, Iran.
2005: (solo) Golestan Art Gallery, Tehran, Iran.
2003: (solo) Elaheh Art Gallery, Tehran, Iran.
---
Lectures & Performances

09/2021: '(i): a diasporic parallax', lecture-performance by Kamran Behrouz and Setareh Fatehi as part of IUAES (International Union of Anthropological and Ethnological Sciences) in cooperation with Orient-Institute of Istanbul, Turkey

07/2021: c3n$or$h!p (Animation), a collaboration with BOLD SAUCE (music&Lyrics) and Edwin Ramirez(Narration), Theatre Gessnerallee, Zurich, Switzerland
06/2021: 'Gauche Caviar', immersive public performance curated by Mîrkan Deniz, Grandpalais, Bern, Switzerland
03/2021: 'A posthuman Nonbinary Approach', lecture-performance, hosted by Dr. Columba Gonzalez-Duarte at the department of Sociology & anthropology, Mount Saint Vincent University, Canada.
11/2020: 'Decolonizing Friday: Hegemonic languages and regimes of representation', Guest Lecture at the English Department, University of Zürich(UZH), hosted by Prof. Dr. Ana Sobral's BA Seminar: "Robinson Crusoe: Readings, Rereadings, Rewritings"
05/2020: 'An I for an Eye: Queer decomposition of the self', A virtual performance as part of a series of online performances, Helmhaus, Zurich, Switzerland.
8/2020: 'Collision', 3D visual performance in collaboration with musical artist Legion seven, at the festival "Window of the World" Reithalle, St. Moritz, Switzerland
7/2020: "September", a Virtual performance in collaboration, and based on the narratives of tracy september (musician), Theatre Neumarkt, Zurich, Switzerland
10/2019: 'Phenomenology of the body', Motion captures performance lecture, Helmhaus, Zurich, Switzerland
2016: '365 Etudes for celebrating pleasure', one year participatory performative research, Wädenswil,  Switzerland
2015: 'Tequila republic', Performance/research at a public gay bar(crusoe), Zurich, Switzerland
2015: 'Double Click', Rote Fabrik, Zurich, Switzerland
---
Publications
2021: Chapter of 'Corpoanarchy: A Molecular Act of Refusal', Taking sides, Theories, Practices, Cultures of Participation in Dissent, Elke Bippus / Anne Ganzert / Isabell Otto (eds.), Transcribe Verlag
2021: Chapter of 'Queers, Crips, and Mermaids: Disruptive Bodies as Performative Objects', Research Catalogue (a database for Artistic Research)
2020: 'The Politics of Facial Recognition System: The biased History of Algorithms', (Visual essay), Archive of New Alphabet School, Haus der Kulturen der Welt (HKW), Berlin-Delhi

2018: "Cosmopolitics of the body", paper, at Utrecht University at a panel discussion with Prof. Rosi Braidotti
2017-2018: Publishing 10 months as illustrator in 'critical thinking magazine by ETH
2018: Presented the essay 'Rejected Bodies' at Konztanz university in collaboration with Mediale Teilhabe(media and participation)
Planned publications:
Living a feminist life, Sara Ahmed, translated by Kamran Behrouz
The book chapter: Working the rhizome: using collaborative arts- based pedagogical practice to re-imagine education, In Emancipating Education: Considerations of Deferred Dreams and Visions for Change, eds. J Lupinacci, J Flynn, A Kemp
---
Work Experiences
2020: ad hoc teaching position for "Artistic Research – In Practice and in Theory" at MFA department of Zurich University of Arts, ZHDK
2020: workshop: Code, Layers, Infrastructures as part of the New Alphabet School #3 Coding. Convened by Loren Britton, Isabel Paehr, Jörn Röder and Kamran Behrouz alongside a live discussion with the avatar and participants about the politics of FRS in India and in global scale at The Common Room Foundation, New Delhi.
2019: Facilitating the workshop "staying with the "translation trouble of sex and gender" within New Alphabet School program at Haus der Kulturen der Welt (HKW), Berlin
2019: ad hoc teaching position for "Artistic Research – In Practice and in Theory" at MFA department of Zurich University of Arts (ZHDK), Switzerland
2018: ad hoc teaching position for Artistic Research at MFA department of Zurich University of Arts,(ZHDK), Switzerland
2009-2011: Batik  and textile design Workshops, Tehran, Iran