Eight Images
This visual journey looks at the well-known story of Robinson Crusoe through the lens of queer studies. Eight paintings placed within a vitrine: three entangled series of images, which attempt to decolonize the image of "Friday" that has been constructed over the last three centuries.
Each image resembles a page from a medieval or early-modern book. The texts are all selected from the original writings of Daniel Defoe and J. M. Coetzee and silk-printed on papers. All the illustrations are hand painted with ink, pencil, acrylic, and coffee.
The medium of coffee, as a colonial product, plays an important role in these images and (re-)creates and reflects the different shades of Friday's skin as it has been projected by the colonial imaginary — in the traditional illustrations of Robinson Crusoe—over the centuries.
The absence of Crusoe's mother in the first image, in contrast to the strong presence of Robinson's father, reflects the patriarchal history of Europe in the 17th and 18th centuries. The third image highlights the well-nigh anonymous presence of Crusoe's wife in the novel.
There are several small, sometimes 'encrypted' details within the images which counterpose a new critical narrative to the texts by Defoe and Coetzee. For example, one crucial method (which was not common in western traditions of illustrating) is the technique of breaking the frames of the images. This iconic method has been borrowed from ancient Persian miniatures (Negargari).
However, in the famous scene of Friday's dance from J. M. Coetzee's novel Foe, as depicted in the sixth image, only his robe can break through the frame, while his imagination remains stuck within the British colonial frame, his final home, where he eventually dies.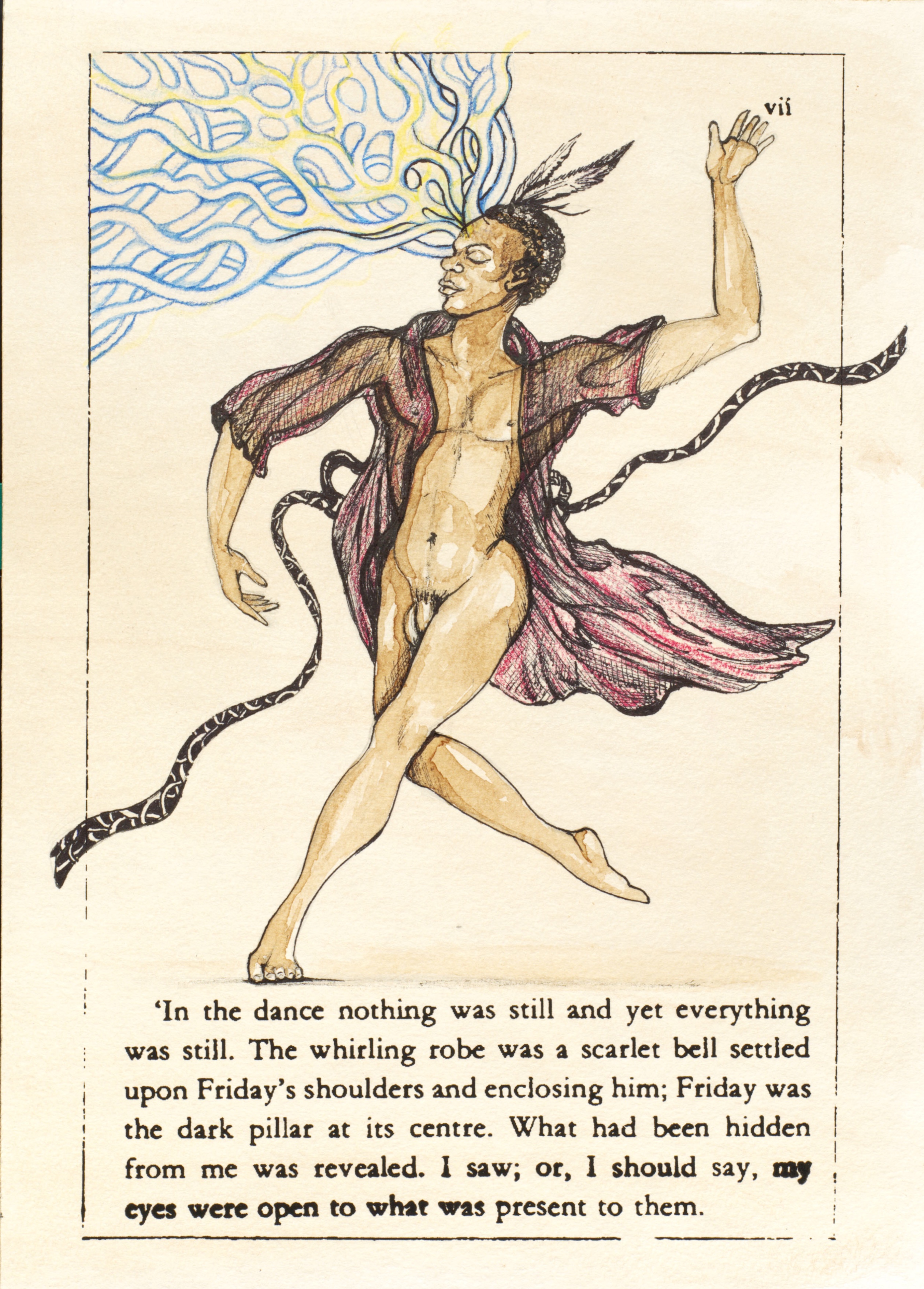 The last illustration is the interpretation of the final paragraph of Foe. John Maxwell Coetzee was a South African anti-apartheid writer who rewrote the story of Crusoe and Friday through a postcolonial lens. This final image tries to depict a silent scream: an ongoing and urgent breakthrough of 'Friday' (as symbol of the oppressed body) in order to decolonize a world, where Robinson is no longer a hero – a cry to unlearn, reflect upon, and re-read our shared past history! His scream harks back at Spivak's question: "can the subaltern speak?" even after his/her tongue being cut away?
(This series will be displayed temporarily at the Crusoe Library of Kunst(Zeug)Haus, Rapperswil-Jona )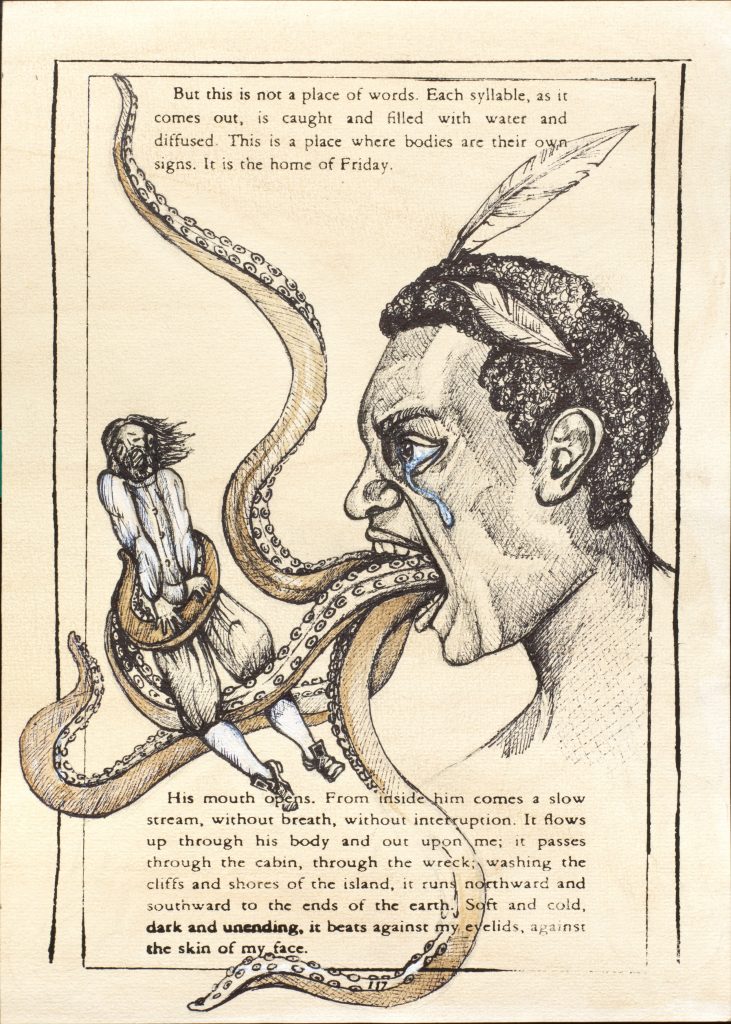 "But this is not a place of words. Each syllable, as it comes out, is caught and filled with water and diffused. This is a place where bodies are their own signs. It is the home of Friday. His mouth opens. From inside him comes a slow
stream, without. breath, without interruption. It Rows up through his body and out upon me; it passes through the cabin, through the wreck; washing the cliffs and shores of the island, it runs northward and southward to the ends of the earth. Soft and cold, dark and unending, it beats against my eyelids, against the skin of my face."
—J. M. Coetzee, Foe, Penguin Books, 1987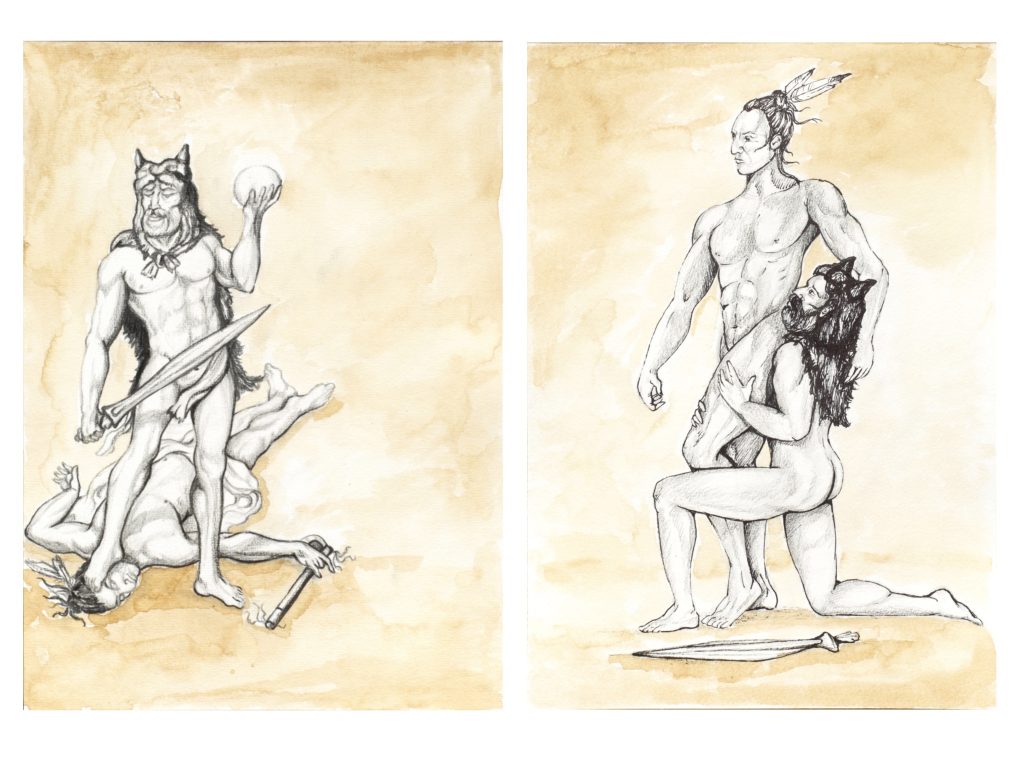 Left: A slightly deconstructed copy of the phantasmic image of Crusoe by Jules Fesquet (1877). Right: A translation/interpretation of the original image (Crusoe's homoerotic fantasy – Friday as Master)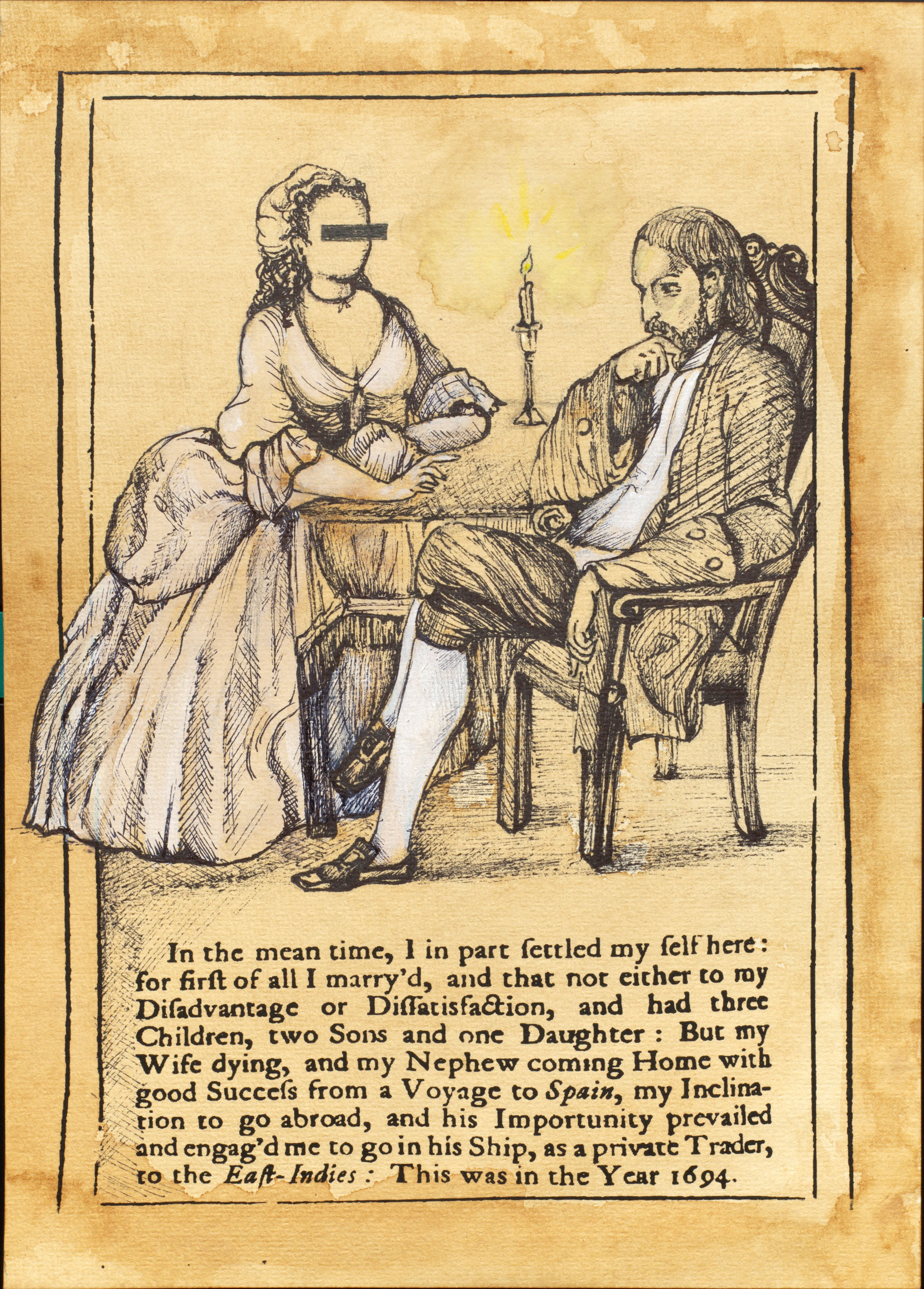 "In the mean time, I in part settled my self here ; for first of all I marry'd, and that not either to my Disadvantage or Dissatisfaction, and had three Children, two Sons and one Daughter: But my Wife dying, and my Nephew coming Home with good Success from a Voyage to Spain, my Inclination to go Abroad, and his Impor tunity prevailed and engag'd me to go in his Ship, as a private Trader to the East Indies: This was in the Year 1694."
—Robinson Crusoe, Daniel Defoe, originally published on 1719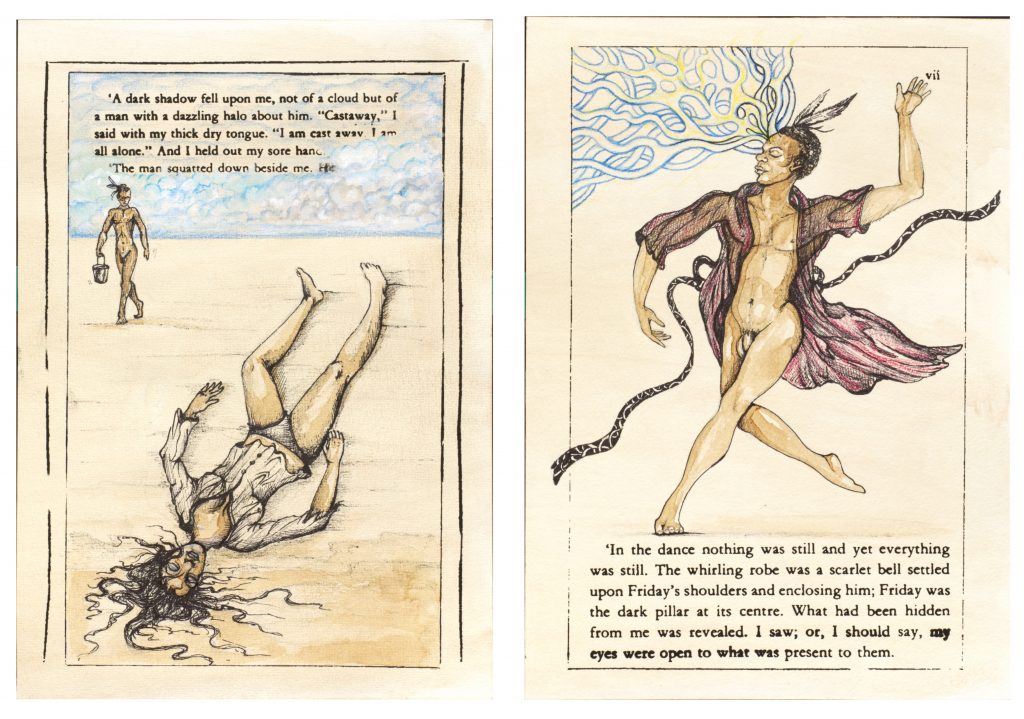 "In the dance nothing was still and yet everything was still. The whirling robe was a scarlet bell settled upon Friday's shoulders and enclosing him; Friday was the dark pillar at its centre. What had been hidden from me was revealed. I saw; or, I should say, my eyes were open to what was present to them."
—J. M. Coetzee, Foe, Penguin Books, 1987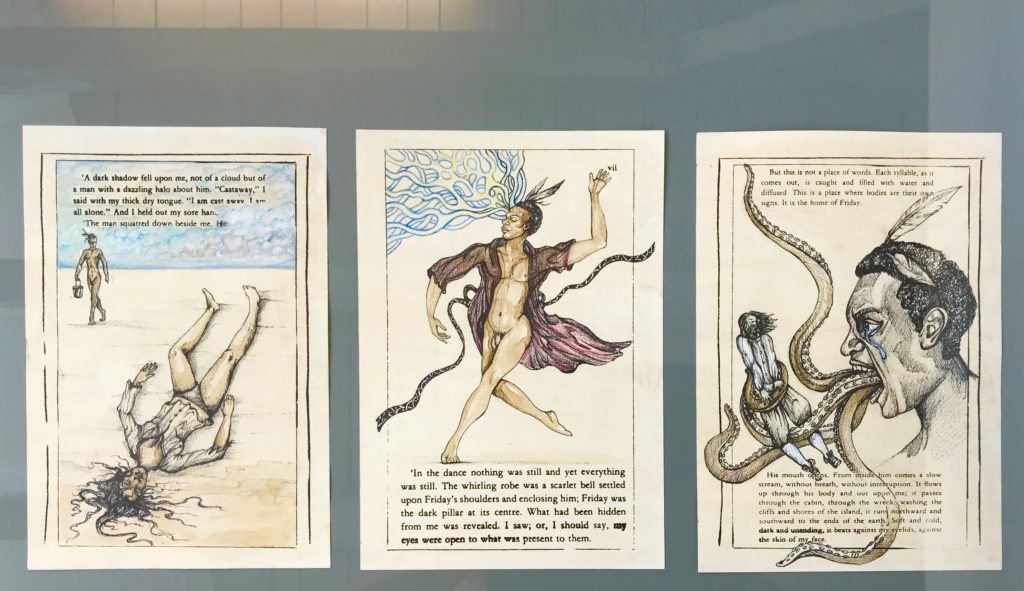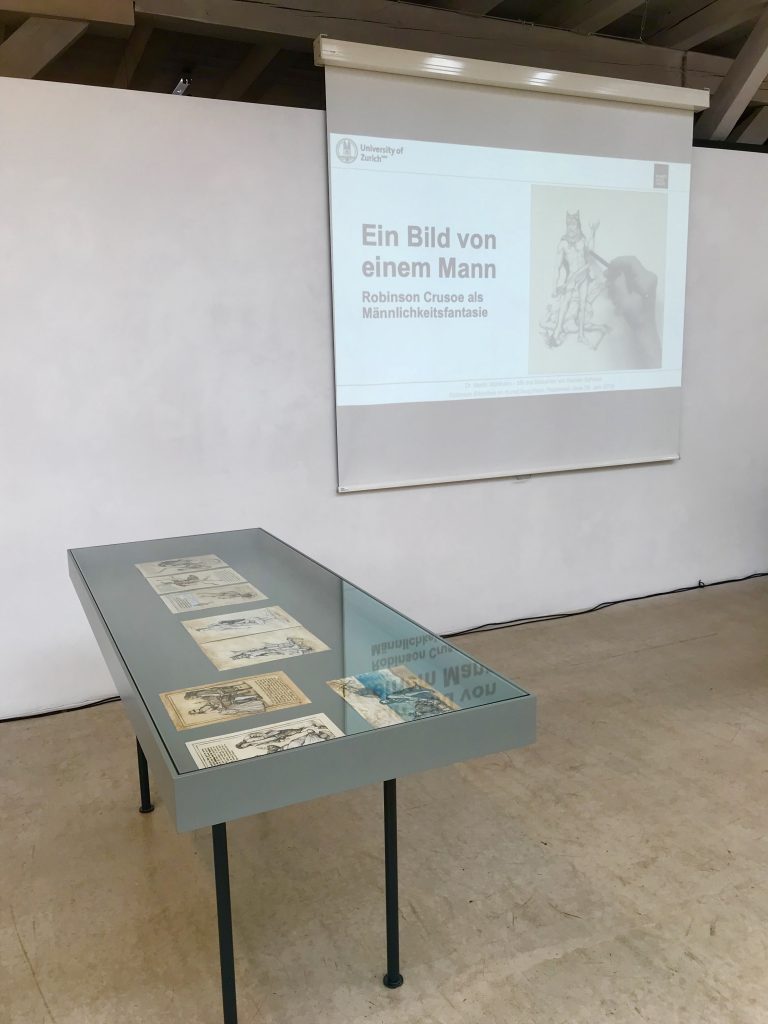 The setting of the lecture: eight images have been part of the lecture "Robinson Crusoe as Masculine fantasy" by Dr. Martin Mühlheim at Kunst(Zeug)Haus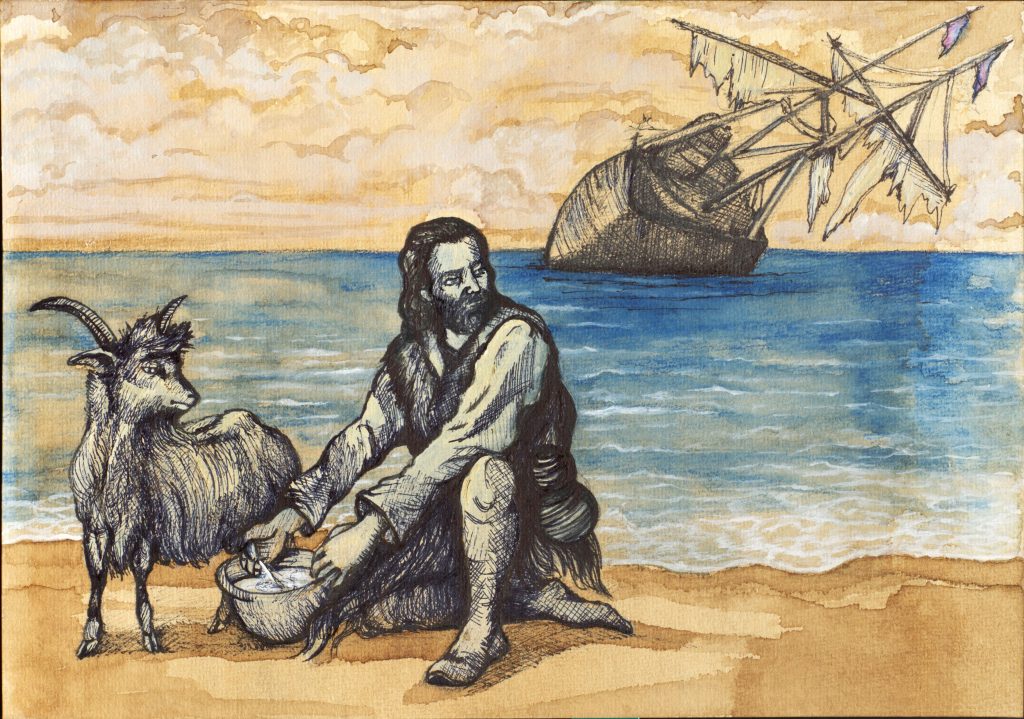 Lecture by Dr. Martin Mühlheim : Robinson Crusoe as a Fantasy of Masculinity
"In a first step, the lecture will explore the question of how the protagonist of the novel Robinson Crusoe became a particularly exemplary 'male character' after it was first published in 1719 – and which cultural differences crystallized in the ways in which this 'male role model' was depicted in the 19th century (especially in book illustrations from England and France). A second section shows why feminist, postcolonial and queer readings of the last 50 years have fundamentally questioned Robinson Crusoe's position as a role model. Thirdly and finally, the lecture looks at two new artistic interpretations of Daniel Defoe's famous 'heroe': the novel Foe by Nobel Prize laureate J. M. Coetzee and three series of pictures by the queer artist Kamran Behrouz. These three series have been specially created for the lecture as a postcolonial and queer feminist critic of the original novel. The dialogue between literary criticism and art results in an revised picture of Defoe's protagonist: the mythical figure of Robinson Crusoe is at the same time a colonialist male who aims to benefit from the slave trade and whose psychological stability increasingly depends on the emotional closeness to 'Friday,' an – allegedly – inferior native." — M. Mühlheim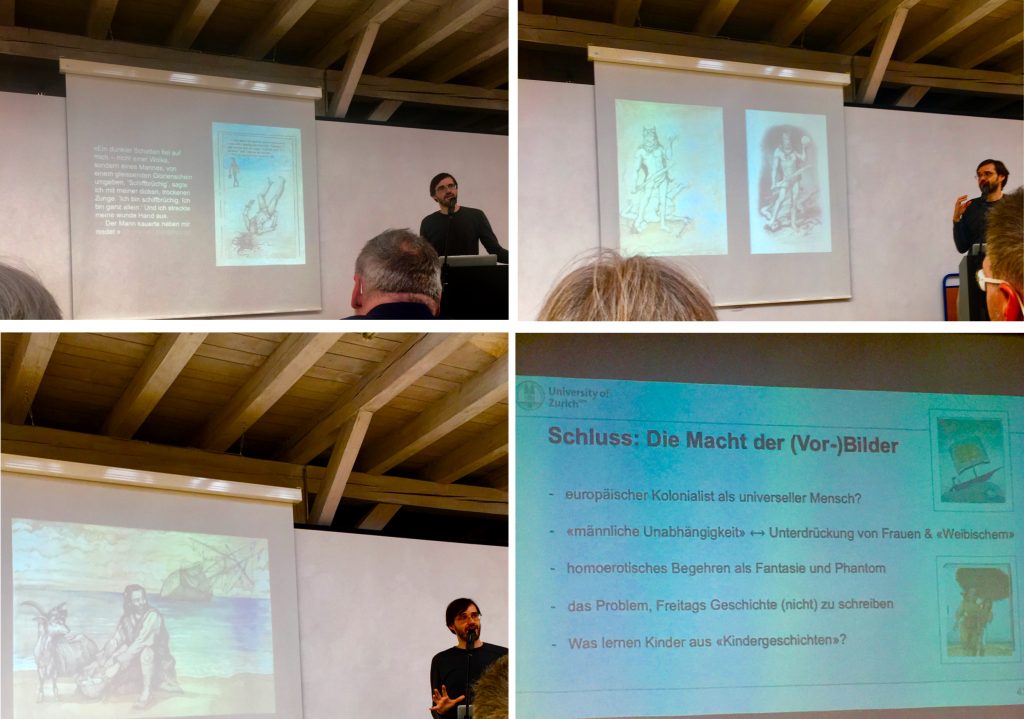 Slide (Right) by Martin Mühlheim as conclusion :
A) European colonialist as the universal man?  B) Male independence <———> suppression of women and 'effeminacy'
C) Homoerotic desire as phantasy and phantom  D) The Problem of (not) telling the story/history of Friday
E) What do children learn from 'children's stories'?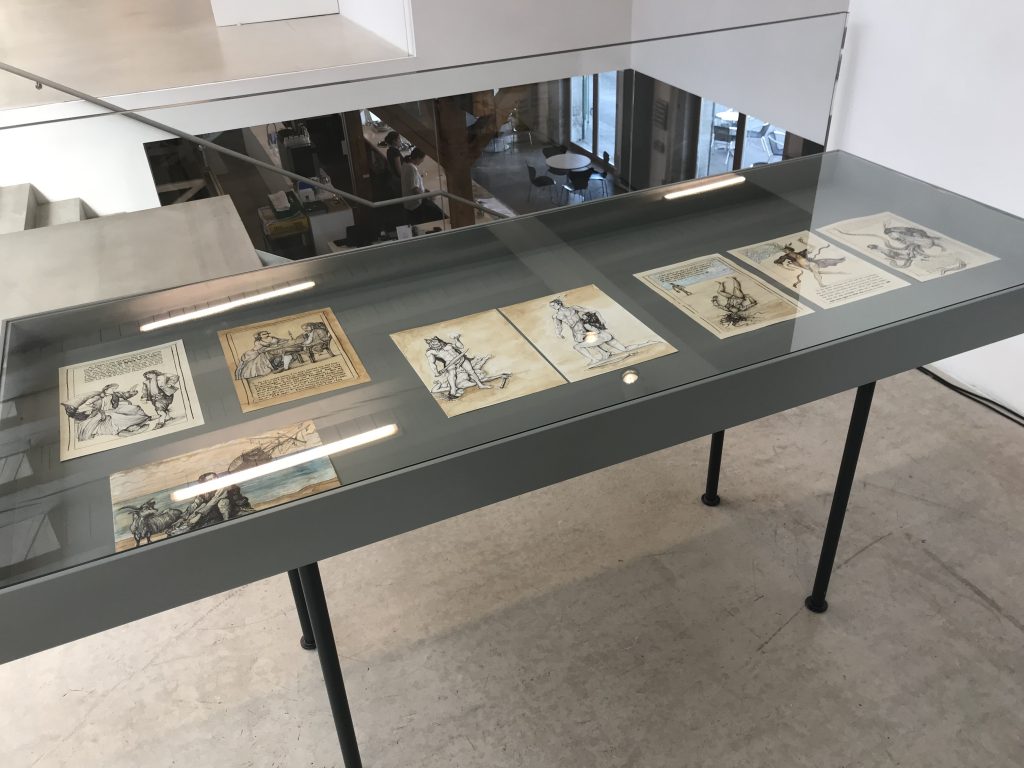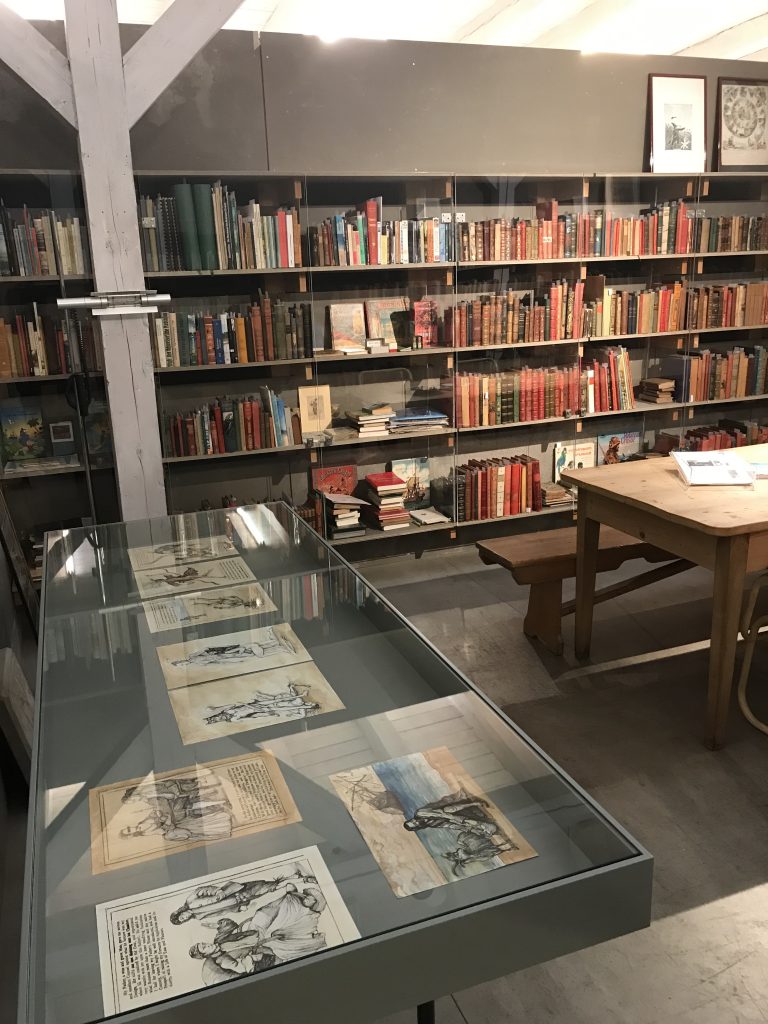 The view of the illustrations in the Robinson library at Kunst(Zeug)Haus