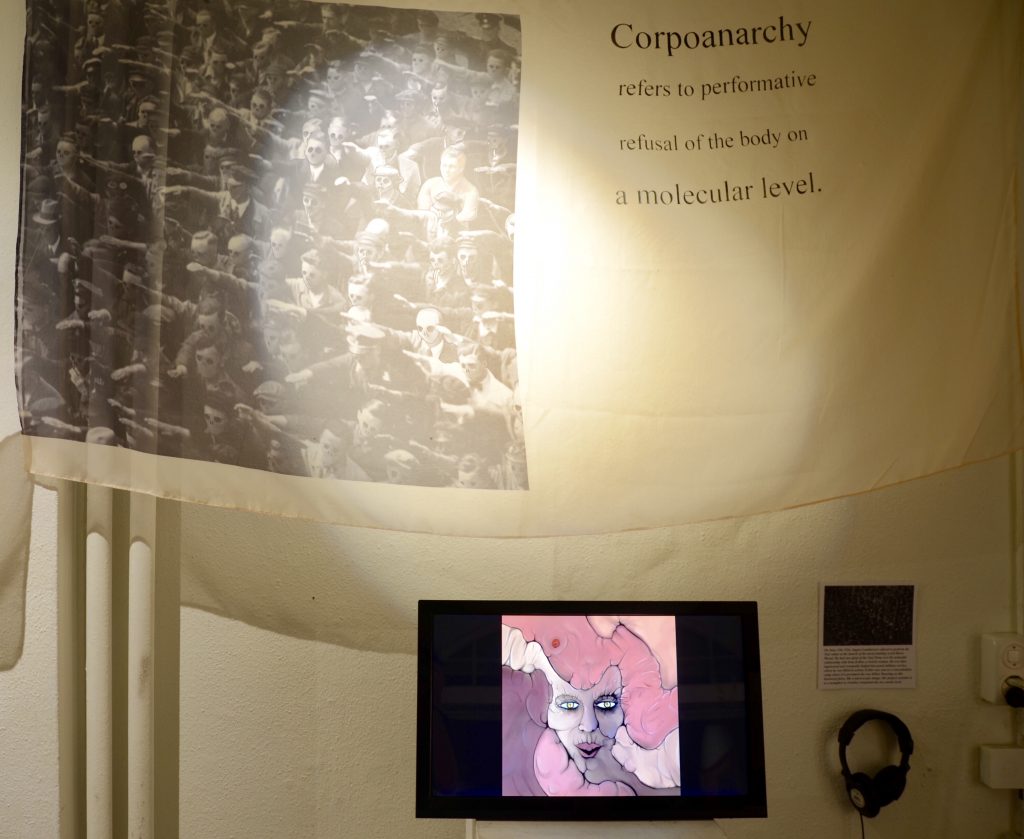 Corpoanarchy refers to the performative refusal of the body on a molecular level. It is a multimedia installation based on research about the effects of  biopolitics on normalization and containment of the corporeality of trans/queer/non-binary bodies. In several cases within authoritarian states, such effects resulted in the disposition of bodies in diaspora, camp and exile which in hindsight introduced those bodies to new rigid forms of borders and Necropolitics. This process reveals the failure of the universality of human rights.
Under neoliberal capitalism, pharmaceutical industries commodified health and the representation of bodies and sexuality, what Foucault described as: "the constitution of the market as site of the formation of truth". Preciado calls it: the "pharmacopornographic" era, where identities and even pleasure are co-dependent on the the dosage of our intakes provided by the market (e.g viagra, antidepressants or hormones). Corpoanarchia suggests a critical way of dealing with this matrix through a performative refusal on a molecular level. The model based on the performance of "Antibody" in confrontation with a virus.
Corpoanarchy examines the performativity of social movements through the lens of the behavior of such micro-organisms. The phrase (corpoanarchy/نافرمانی بدنی) itself is a proposition for a systematic form of micropolitics, in a series of performative scores/exercises!
Etymology of the word corpoanarchy (read more here)
INSTALLATIONS:

Eyewitnesses 

A Room of her own! 

Phenomenology of the Red Virus

[deutsche Version]
Corpoanarchy bezieht sich auf die performative Verweigerung des Körpers auf molekularer Ebene. Es ist eine multimediale Installation, die auf der Erforschung der Auswirkungen von Biopolitiken auf Normalisierung und Einschliessung der Körperlichkeit von trans/queer/non-binary Körpern basiert. Innerhalb autoritärer Staaten führte dies in mehreren Fällen zur Verteilung solcher Körper in Diaspora, Lager und Exil, die diese Körper wiederum an neue starre Formen von Grenzen und Nekropolitiken heranführten. Dieser Prozess zeigt das Scheitern der Universalität der Menschenrechte.
Im neoliberalen Kapitalismus hat die Pharmaindustrie die Bereiche der Gesundheit und der Repräsentation von Körpern und Sexualität kommerzialisiert, was Foucault als "die Konstitution des Marktes als Ort der Wahrheitsbildung" beschrieben hat. Preciado nennt es die "pharmakopornographische Ära", in der Identitäten und sogar Vergnügen von der Dosierung unseres vom Markt bereitgestellten Konsums (z.B. Viagra, Antidepressiva oder Hormone) abhängen. Corpoanarchia schlägt durch eine performative Verweigerung auf molekularer Ebene eine kritische Weise des Umgehens mit dieser Matrix vor. Als Vorlage dient die Performance von "Antikörpern", wenn diese mit einem Virus konfrontiert sind.
Corpoanarchy untersucht die Performativität sozialer Bewegungen anhand des Verhaltens solcher Mikroorganismen. Der Begriff (Corpoanarchy نافرمانی بدنی) selbst ist ein Vorschlag für eine systematische Form von Mikropolitiken, in einer Reihe von performativen Scores/Übungen.